Saturday, 20 January 07
As we reach the last border post of gabon the officials friendly great us. After a friendly conversation we get our exit stamp and are free to leave the country. Behind the border post the road descends to a small river, on the other side of the bridge begins Nigeria.
<![if !vml]>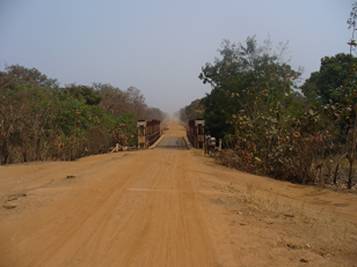 <![endif]>
If there is a country in whole Africa you hear almost only bad things about then it is Nigeria. Armed robberies often occur in the large cities and an overland traveller is likely to get stopped by corrupt military and/or police controls.
Everyone who crosses Africa† with the own vehicle has got a certain respect of this country.
The majority of the population is very poor, there are more than 120 million people living in Nigeria and security can generally not be provided by the government.
In addition professionally acting crime syndicates sometimes operate disguised in police uniforms and naturally there is the huge size of the country with the many different ethnic groups, who do not necessarily live together in peace.
The north of the country is strictly moslemic and with the Sharia the iurisdiction of the Koran was itroduced again.
Thieves can get their right hand chopped off and contact to women in the public is considered as forbidden.
In the south considerable chaos prevails at the moment and there are on going acts of terrorism against† foreign oil companies as well as brutal street crime in the large cities.
Considering and assuming these rather demotivating informations we had to find out a possible travel route through the country by keeping the risk as low as possible.
For this reason we decided to cross straight through the center. First of all we mostly drive over bush paths and small side roads with hardly any traffic and secondly we circumnavigate the large cities in the south with their numerous control posts and road blocks.
Jungle roads are not strongly frequented in Nigeria, since there is an excellent† system of main roads.
A few meters before the bridge all that goes through my head again and I must admit, I am a little anxious.
Some seconds later we are there.
The official at the border post signals us to stop and to turn off the engines. He holds a pistol in his hand and immediately wants to see passports and visas. We show him our documents and he asks for our purpose of travel and our intended route. As we answer that we want to cross Nigeria towards Cameroon he immediately says that we can only get a transit visa.
We point out that we already have a visa for 30 days and that we do not need to buy a new visa.
Whereupon he must telephone his boss. Certainly there is no telephone at the border post and for his mobile phone the man has no credit.
After approximately 15 minutes someone on a bicycle brings new credit and he can contact his boss. That one confirms that travelers with valid visas do not need to buy new visas and so we finally get our entry stamp after half an hour.
When the official is finished with his work, he asks me to come into his office alone. Somehow I know whatís going to happen, he puts his gun on the table and simply asks me† for money. Whereupon I thank him it for his work and insure him that I am glad to have arrived in Nigeria.
Whereupon he repeats his demand and threatens me to call his boss again to inform him about us refusing to pay entry fees and to backinsure whether we really may enter the country now. Friendly smiling, I show him my motorcycle from the window and point at the Unicef Logo. As he takes the telephone in his hand, I let him know that I travel for Unicef in order to help the children of Africa and that I would gladly speak to his boss myself.
As expected he puts the phone down and wishes me a good journey! †
Well, the first hurdle we took, but the game has not even started yet.
Our next way leads us to the duty officer to legally import the motorcycles. As we stop the bikes in front of the barrack we are welcomed unexpectedly friendly and the duty officer tells us about his son, who lives and studies in Innsbruck/Austria. That makes a long story short, I talk about the beauty of Nigeria and the good man of snowy mountains in Austria. Needless to say that we get our Carnet stamped without any extra fees and happy we drive on.
The good piste road leads through the bush passing by small villages.
<![if !vml]>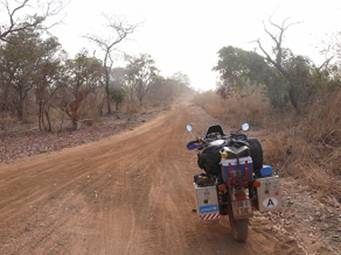 <![endif]>
In one of these villages a man in civilian clothes stops us. He wants to see our passports. I also ask him for his document of identification, but he does not carry it on him.
Fortunately the man lives close by and he is really a policeman. After a few minutes he returns completely out of breath and shows us his police tag. So we also show our passports and then shake hands.
The journey continues.
In another village we are stopped by the police again. The road is blocked with nail boards and 5 men point their guns at us as they tell us to get off our bikes. As we want to get our passport out, one of the men says we can not drive on any more. Allegedly we did not stop at a police checkpoint and escaped from a control post somewhere up the road.
When we point at the guns and the nailboards on the road and desperately try to† assure that we always stop at roadblocks they seem to believe us and let us continue.
Up to now everything does not go so badly at all. The alertness of the security forceses is extremely high, but in principle things run correctly.
<![if !vml]>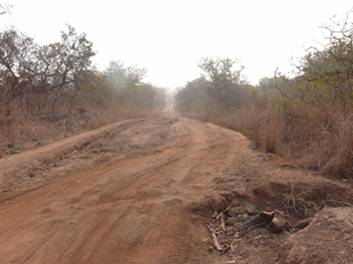 <![endif]>
Over bush treks we ride. The more narrowly and remotely the road goes on the more problem-free our trip seems to be.
Itís a mad experience to see these parts of the country. Judged by the looks from the locals they have not seen many bikers yet.
<![if !vml]>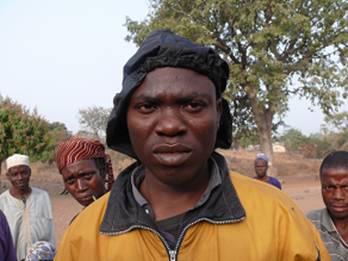 <![endif]>
In the evening we do not make it to the next big town and so we simply decide to ask at the police post of a small village whether we may stay overnight.
The officials are extremely friendly and offer us immediately to pitch the tent next to their post.
Of course, the situation is also not easy for the police because finally the village chief will want to decide about us. In accordance to old African tradition it is the village chief alone who is responsible for the well-being of the people in his village, and not the police.
So he walks up to the police post with his whole council and wants to know whether we are honorable people and whether our overnight stay does not mean a danger for his village. After a short discussion the boss is finally calmed down and we are welcome .
We unpack the camping stove and cook some pasta with tomatosauce.
Certainly the children are not far, constantly keeping in the eye what these two strange white man are about to do.
<![if !vml]>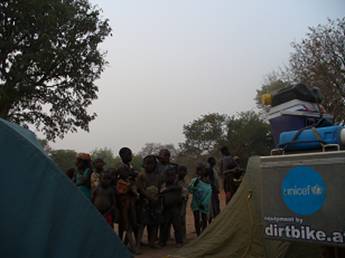 <![endif]>
Sunday, 21 January 2007
After a good coffee with the guys from the Nigerian police we drive our bikes back on the piste. Long and lonely the road winds through dry bushlands towards the capital.
<![if !vml]>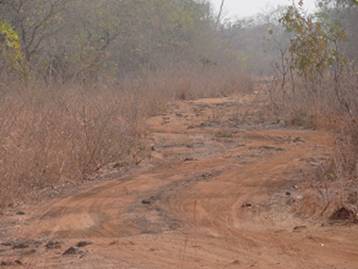 <![endif]>
<![if !vml]>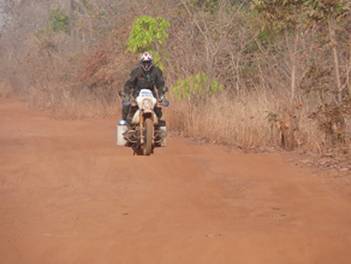 <![endif]>
At temperatures over 30 degrees riding can be quite exhausting but nevertheless is much fun.††
In the evening we reach the small town of Jabba where there once was a good guesthouse. This hotel still is on a rock overlooking the Niger river, unfortunately it is closed now.
There is no other option for us than to stay in a run down truckerplace where they charge us 20 dollars for the night. That is the hell a lot of money for Nigeria especially given the bad condition of the place.
<![if !vml]>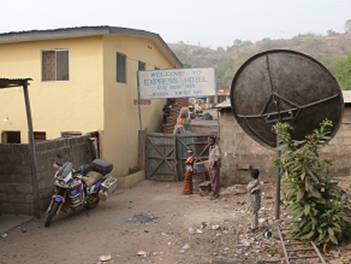 <![endif]>
In the evening we decide to have a little walk outside the hotel and go for a drink. Just a few meters off the place three men come up to us, stop us and† say that they want to have our motorcycles. Their behavior and alcohol smell doesnít really let the situation look like fun.
The men now completely block our way and repeat their demand. The only thing we can do now is try to start a conversation with them so we win some time and see how they react. We ask whether they have a driving licence to show at the next roadblock and know how difficult it is to ride a heavy motorcycle through the sand.
In addition I explain to them that one cylinder burns 3 litres of fuel on 100 kilometers and a motorbike with two cylinders needs even 6 litres on that distance. Whereupon they obviously seem to be completely surprised and answer some Oh, Ah Ha and UhÖ
In any case the ice is broken now and we laugh all together. As one of the men then† asks my travel companions whether he could adopt him and accept him as his son, we are completely convinced that it is time to go.
The night we sleep quite well.
Monday, 22 January 2007
As we want to continue our journey today there is a nice surprise waiting for me. At the first checkpoint one of the policemen obviously wants to prove his special affection to me. He hugs me with his left arm and thereby presses his gunbarrel against the my chest. Then he whispers in my ears if I donít have some US Dollars for him. I answer completely surprised that things are paid with Naira in Nigeria and therefore I donít have any dollars with me.
Whereupon he starts to laugh, shakes my hand and signals me to drive on.
During the day we are getting stoped at many other checkpoints and meanwhile I must say that these controlls by far are not as bad as their reputation.
The first appearance is usually threatening, when the men block the road with assault rifles and nail boards, after a short discussion and a few friendly words the situation normally looks different. We may rarely leave a checkpoint, before we did not shake every officialís hand that they all can wish us a good journey.
Naturally many policemen ask whether one has got a present for them, if you have nothing it is fine as well and with some humor each situation can be mastered.
One may not forget that these badly paid men sometimes donít get paid for a long time at all. Besides that, their job is extremely dangerous.They stand on the road, so that no bandits stand there!
<![if !vml]>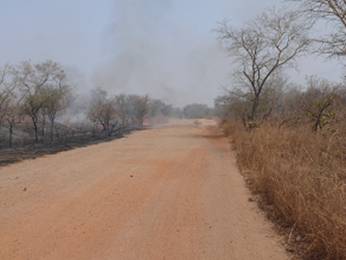 <![endif]>
On a bad pot holed road we pass by some bush fires and reach Abuja in the afternoon.
The capital is as different from the rural Nigeria as it only can be. The urban motorways remind of Los Angeles and the markets and bazaars of an eastern metropolis.
Urban motorways
<![if !vml]>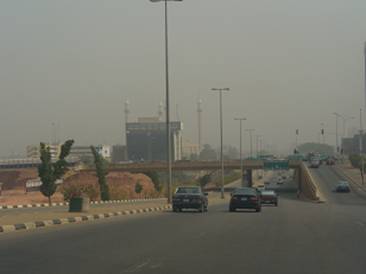 <![endif]>
Bazaars
<![if !vml]>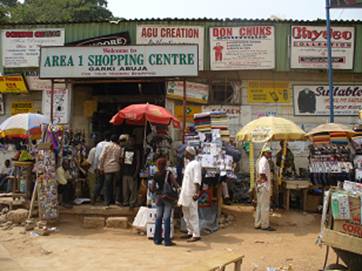 <![endif]>
We spend the evening in the African safari hotel, where we automatically get a discountprice without asking for it. Yes, Nigeria is different.
Tuesday, 23 January 2007
Today is a typical working day is in the classical sense of an overland traveller. First we drive to the embassy of Angola. For some inexplicable reason they donít work today so we will have to come back tomorrow.
Nothing else was to be expected for Angola so we decide to try our luck at the embassy of cameroon. To find that one turns out to be a little tricky. In Nigeria there exists no such thing like yellow pages and there is also no authority where one could inquire an address. After some funny taxi rides through huge Abuja we finally find the diplomatic quarter.
There things are looking different than in other cities of the world. Most nations are only represented by a flag or a sign! The embassy quarter has been under construction for years and most countries own a piece of land, with no buildings on yet.
Amused by the fact that Iíve just spent a few hours looking for a carrot field, I decide to visit the high comission of the Iraq. As you see, with success!
<![if !vml]>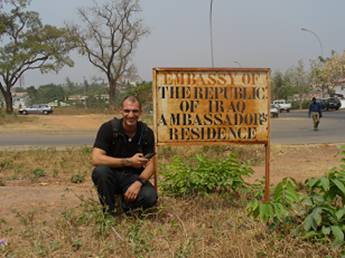 <![endif]>
The Cameroon embassy is momentarily represented by this sign.
<![if !vml]>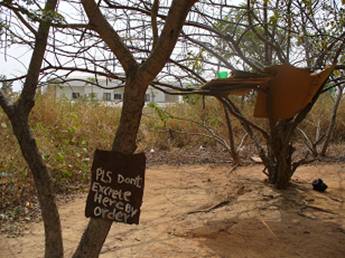 <![endif]>
For us that means that we must go to the south of Nigeria. In Calabar there is a consulate of Cameroon for sure and there we should get our visa.
In the afternoon we get back to the hotel, without having reached a lot for today. Afterwards I go for a nice run in the neighbourhood.
†
Some impressions of Abuja
<![if !vml]>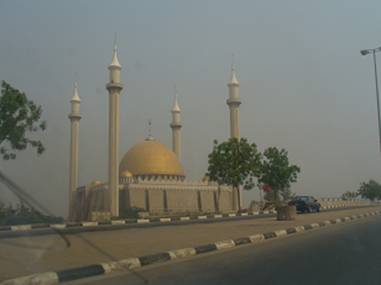 <![endif]>
<![if !vml]>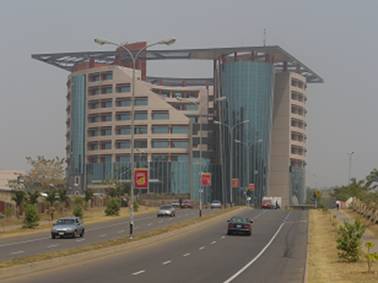 <![endif]>
As I sit down in the hotel lounge to work on my computer this evening I recognize a strange noise under the table. After closer investigating the source of the noise I see that it is the hotelboy who sleeps snorring under the table.
Wednesday, 24 January 2007
As we return to the Angolan embassy for the second time our expectations are rather low.
In front of the building there already is a queue of waiting Nigerian businessmen and entering the building is forbidden.
All visa applicants must stand outside on the road and are served through a small window with spanish bars. The walls are fortified with spikes and barb wire and the guards carry automatic rifles.
<![if !vml]>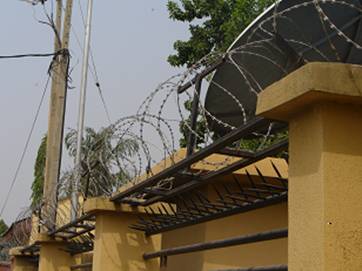 <![endif]>
Suddenly we recognize a cyclist among the waiting. Jan is from the Tschech Republic and rides his bicycle to Capetown. He desperately tries to explain the Nigerian businessmen why someone rides on the bicycle through Africa.
After approximately one hour of standing around we are called to the window. I make the beginning and hand over my file with forms and letters of recommendation.
I immediately mention that his Excellency, the Ambassadors of Angola in Lome already informed his Excellency the Ambassador in Abuja about my arrival and that he personally accredited my application in Lome with a letter of recommendation, for† my urgent work makes it inevitable that the visa is issued this very day.
Whereupon the responsible official needs a short break before he takes over my forms in order to bring them to the ambassador. A few minutes later I get back my passport and my visa. For a short moment my breath seems to stop, that it would be that easy in the end, I didnít expect.
After another hour of waiting something almost funny happens. The official appears at the window and lets my friends know that they may also apply for visas. The only problem is that the embassy ran out of application forms and they would have to copy their own ones.
A few minutes later Taco returns in a taxi from the copy shop and supplies the consulate with the necessary material again. So on it goes. Nerve cracking minutes elapse, forms are hastily filled out on the road while the official calls from the window that the embassy is already about to close and who doesnít hurry wonít get a visa.
<![if !vml]>
<![endif]>
It goes down like in a bad movie. One after the other gets called to the window to pay 60 US Dollars. Then the unbelievable does happen.
The official finally hands the much desired visa to everybody! Valid for 60 days, stay for 30 days and double entry.
Three lucky travelers made itÖ.
<![if !vml]>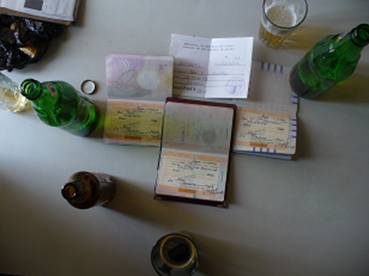 <![endif]>
After a big thanx to the Angolans and a short celebration in the next bar we head back to the hotel.
After all that excitement Iím happy to go for a long run.
Tomorrow our journey continues again.
We have got the Angolan visa in the passport and at least the way through the bureaucratic jungle of Africa is open now.
Whatís now going to come is the real jungle.
Hopefully we can still make it through the north of Cameroon before the beginning of the rainy season. Drivers and material will be put to a hard test, until we will finally cross the border to Namibia where my next UNICEF project waits.
Thursday, 25 January 07
Today we are heading south towards Calabar. The road leads through dry grass land and then finally decends into the evergreen forest.
<![if !vml]>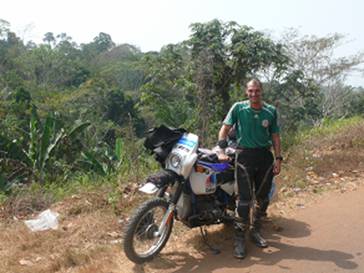 <![endif]>
When we cross the Niger river again, the climate and the vegetation suddenly change.
<![if !vml]>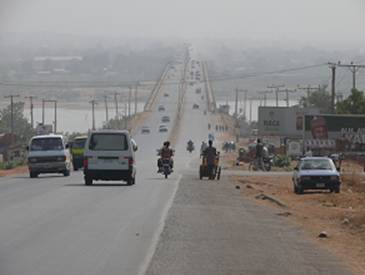 <![endif]>
There are more palm trees and the humidity continues to increase. Under the motorcycle jacket the Shirt now hardly remains dry.
We spend the evening in a nice hotel and recreation center. In the remote Prinzessgarden the guests normally are distinguished Nigerian businessmen, who enjoy peace and tranquility off the large city. A man with a rifle takes place in front of our room and this sign at the entrance is meant to be taken quite serious.
<![if !vml]>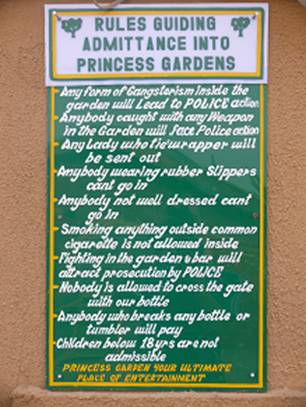 <![endif]>
Friday, 26 January 07
After a pleasant night we continue. Since we get very close to the border of Cameroon on our way to Calabar we decide to simply try our luck and see whether we could get a visa directly at the border. In the past that was possible without problems.
The road leads through postcard like African villages where most work is still done by hand.
†
<![if !vml]>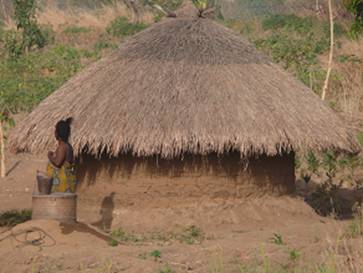 <![endif]>
Before you reach the Cameroonian border you come through the small town of Ikom. There is a money changer running his business somewhere in the middle of the market streets and his office can only be found by the assistance of the locals.
<![if !vml]>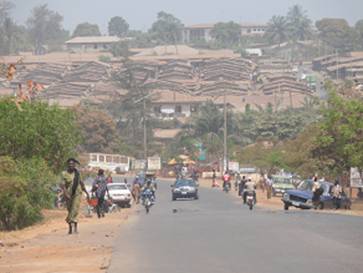 <![endif]>
Here we change our Nigerian Naira into Cameroonian CFA.
Which is too early, as it turns out later.
20 kilometers later we are at the border and the Nigerian officials want to stamp us out.
In the last moment we tell the police that we donít have the visas yet and they shall wait to stamp us out.
Once the exit stamp is in the passport there is no turning back and if there is no visa for the following country, also no getting ahead.
Today I will try my luck without passport by simply walking to Cameroon and asking there if we are allowed to enter. Crossing the bridge over the border river makes me feel a little lost.
As the Cameroonian border guard sees me, he doesnít trust his eyes. There a white man without luggage and vehicle walks over the border and if that wasnít enough he wears a t Shirt of the Nigerian national soccer team!
I hear something like Ąwhat the fuck ďand then in French the usual questions about visa, passport and destination.
When I answer that I actually have neither passport nor visa and that I just wanted to briefly walk over to ask whether I could get a visa at the border, the soldier reaches for his pistol just to stop his movement again to start laughing.
He asks me, how I could come here without a passport at all. Whereupon I answer that the Nigerian colleagues were so nice to let me try without stamping my papers.
Unfortunately it is no longer possible to get the visa at the border and I must march back again.
The men on the Nigerian side obviously find that funny and smile over their faces.
That now means that we really have to go to Calabar and got time until Monday to spend a pleasant weekend at the sea.
Certainly not without changing back the money in Ikom. The money changer must think we are crazy but at least he gives us the same good rate again. In the evening and after more than 500 kilometers of driving we reach Calabar.
Saturday, 27 January 07
In Calabar some things seem to be very different from Abuja. We learn that as we want to draw some money from the ATM this morning.
There is neither fuel nor power available in the city!
The otherwise quite modern city at the sea is almost only supplied via the black market!
If a bank for example does not have its own generator it can not work. The same† applies to computerized money transactions and internet connections.
On Saturdays the banks do not start their generators and so there is no money.
Since Nigerian hotel rooms must be paid in advance, the situation is not easy. We end up at a money changer again who secretly makes his business in a garage guarded by private gunmen.
The whole scene looks dangerous in a way. The guy wants to see all our cash and then he offers us a bad rate.
So what to do, either we loose a lot of money or we try to become his friends. We go for the second option. After telling him how bad it is that the people of Nigeria have to suffer so much because of having no power and fuel and that no proper steps are taken by the government to help them out, he turnes nice. We shake our hands and the gunmen start laughing.
So we change our Euros into Naira at a very good rate.
As at many places in Africa, the money simply goes into different channels without people having anything of it.
In the afternoon I go for a run and enjoy the beautiful sunset from my terrace.
<![if !vml]>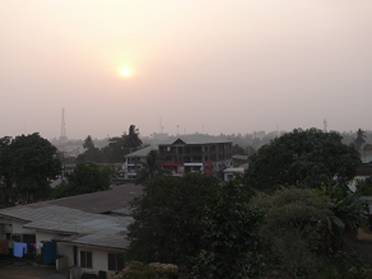 <![endif]>
Sunday, 28 January 2007
Today is going to be a good day for recovering from the journey. Due to the heat and humidity I shift my running to the early morning.
Around noon we plan to fill up the bikes. Officially there is no fuel available in whole Calabar and the black market is booming. The prices are accordingly high. A litre already costs something over a euro fifty! The black market filling stations must well camouflage themselves, if the police discovers such a place, the fuel gets seized and the operators punished.
I am glad that we have a guarded parking lot at our hotel. I believe, a full gas tank would hardly survive a night on the road.
Monday, 29 January 2007
When we visit the consulate of Cameroon in the morning, for some inexplicable reason they donít work today. Visa applications should be possible tomorrow so we must come again.
On this newly won day off we decide to go for a boat tour.
<![if !vml]>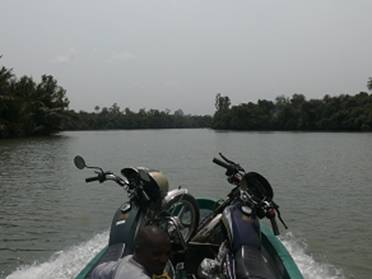 <![endif]>
There are speedboats going through the delta of the Calabar river up to Creektown.
<![if !vml]>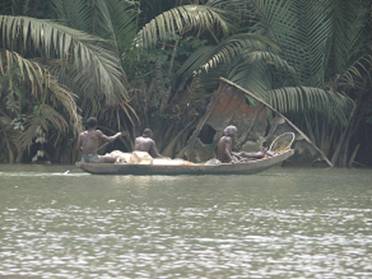 <![endif]>
<![if !vml]>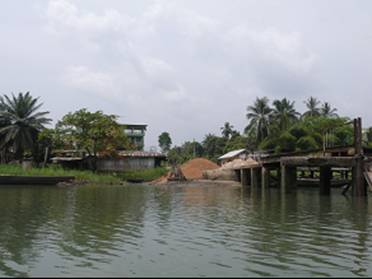 <![endif]>
This small jungle village can be reached on the water and tourism is rather unknown there. The men in the village welcome us and offer us dog meat. Here it is a speciality we however reject it by thanking them very much.
††††
Tuesday, 30 January 2007
Today the Cameroonian embassy works again and we get our visa after only three hours of waiting. The journey can go on.
Also today, each attempt to draw some money fails misserably. The banks have power again by running their generators but the telephone connection for the AMTs is long term interrupted and might only be fixed next week.
Fortunately the motorcycles are already filled up and we can get on the way to the border.
Without money in our pockets we drive off and hope that it wonít come to any unexpected problems.
Everything goes well, and we are very happy as we reach the border in the late afternoon .
After a short interview by the Nigerian police we get our exit stamp and may drive on to Cameroon.
The Cameroonian officials welcome us very friendly this time and offer us to park the motorcycles at their post during the night .
In the small bordertown of Ekok there is a hotel, but no safe parking for the vehicles. †
<![if !vml]>
<![endif]>
††